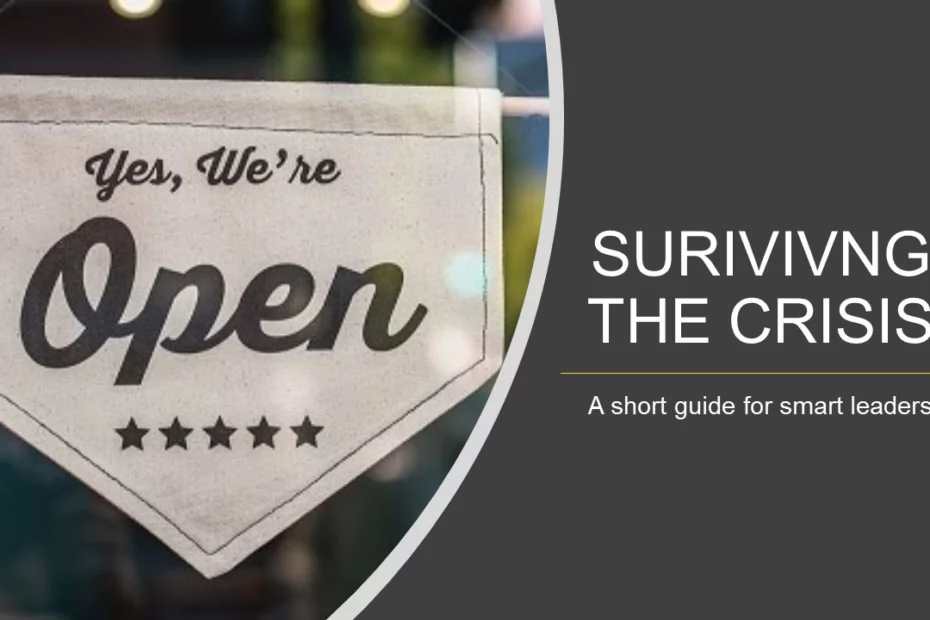 The 4 Types of Businesses | Who Will Survive the Crisis?
It's been over 200 days since we first started talking about the "new normal" in light of the COVID-19 pandemic. Businesses of all sizes in India have felt economic, regulatory, and psychological burdens during this time, including:
Lower domestic demand as many customers delay purchases
Reduction in exports as importing countries are undergoing tough recovery
Changes in consumer behavior, which has been good for some industries like e-commerce and health, but still doubtful for auto, facility management, office space, and other conventional businesses
Tightening of cash flow affecting client payments, availability of working capital, and increased dependence on stimuli by government
Disruption in supply chains, the effects of which are felt in both domestic sourcing as well as imports
Most organizations shall or have already adopted different leadership styles and business trajectories, becoming one of the following:
Mavericks: These are the organizations looking to diversify. They are optimizing and re-working their business models and working on creating new products and services. They aim to serve new industries and new sets of customers while optimizing their current businesses with existing customers and products.
Specialists: These are the organizations focusing on niche core competencies or products. They want to excel in these areas and scale up to dominate their familiar market space. They are also optimizing their businesses, continuing with most of their current customers, and wresting new customers from the competition.
Optimizers: These organizations have majorly embarked on efficiency and productivity initiatives to make their operations lean, efficient, and optimized. They are more content with moderate bottom-line efficiencies.
Dinosaurs: The traditionalists who continue to hope that things shall go back to the status quo and do nothing. They keep waiting for the government to offer support. They are either already extinct, or extinction is lurking just around the corner for them.
Action plan for profitable business growth (for everyone except the Dinosaurs)
Phase 1: Plan the change
Understand your organization's current position to make smart strategic decisions for bouncing back and plan ahead for the change you would like to see in the future. 
Organizations need to first focus on business enhancement. Begin by putting the management to develop the business strategy, including both long-term and immediate-term plans. This will generate innovative and progressive views on how to take each department forward. The idea is to build a business plan for the remaining year and the coming financial year. Start this by assessing the readiness of your organization to take on the challenges of the new world order. [link to GautamManthan.com Assessment Page]
Create an organization for the future. Rework the organizational design, talent management process, and set KPIs for each employee so that the organization is geared to not only survive but thrive even after the pandemic.
Improve current processes and practices. Re-engineer activities like engineering, production, and product/service management. Task teams with new product or service ideas and design changes in the existing portfolio to bring about cost efficiencies and/or increase production efficiencies. 
Finance teams to work on various aspects of risk mitigation so that plans are in place for the worst-case scenarios.
Build processes wherever gaps exist.
Generate ideas for new products or services and ways of delivering them. This can be done in two ways – 

As an extension of the existing product or services portfolio
As new products or services that shall be required in the new world order. For instance, parts needed for health equipment, essential services, India's drive for self-reliance, foreign companies shifting base to India, etc., are all opportunities waiting to be leveraged.

Set robust processes for building talent. From creating an efficient organization structure to effective recruitment, productivity enhancements, compensation and benefits, and performance measurement. Arrange training for teams and individuals as per their needs vis-à-vis their future role in the organization's growth – these are all areas to be looked into.
Consider taking help from external subject matter experts. This ensures good support for faster results without having to invest in long-term employees or resources. Find out how to get started with this. [link to GautamManthan.com Contact Page]
Build a business plan for multiple scenarios anticipated in the near future. 

Call it by any name you like – Blue Ocean Strategy, Business Model Canvas, Strategic Planning, or something else – a lot of time and effort have to be devoted to building robust, practical plans for the future.
Build new project plans and form Cross-Functional Teams (CFTs).

Focus on building new businesses and expand into newer markets or client segments. Launch new businesses and products or services while aiming to conquer newer geographies. Not to forget to revamp current resources to accommodate expansion.
Undertake deep studies to build revised and adaptive business models for the future of the industry.
By strategically planning the change, Organizations can hope to – 
Be fit and ready to attack and capture lucrative business before others do
Build a continually growing top-line and bottom-line
Diversify into the businesses of the future and ensure the longevity of your enterprise
Phase 2: Implement the change
Set action-oriented outcomes to gain back any lost standing and grow with confidence
Conserve current business share
Set business benchmarks, invest time in creating an evolved strategy to counter future business losses, and get back to the business's share as it was before the pandemic. Start attending to broken or missing pieces in the business model, make amends, and take steps required to fix those issues. Experienced external experts can be of great help in getting the best out of this activity. 
Ensure liquidity and cash flow
Create processes for faster payment collection and lower outstanding payments. Ensure adequate measures to have financial prudence and fluidity.
Strengthen your supply network
Be aware of the vendors and suppliers that are a part of your supply chain. Reinforce your supply chain by reassessing your contracts. Rehash fair payment terms with suppliers and vendors for smooth transactions and better serviceability, as they may also be facing the same issues as your enterprise.
Implement best practices for cost-containment and think of prudent ways to spend your capital. This does not mean mindless cost-cutting or firing off employees. You have to initiate smart cost management options, whereby each investment or cost saved can add to profitability. This way, you can bring in more bang for the buck with the same or even lesser resources.
Ensure that every employee is working towards organizational goals and has well-documented KRAs and KPIs. Managers must take good care of their respective teams. This is the right time to build robust HR and talent practices. If you are new to this activity or want to figure out ways to maximize gains from this activity, reach out to an experienced external expert to guide you.
Ensure business enhancement
Take cognizance of your current and potential clients. Revamp current business models to reach more target customers. Look for new markets and customers for existing as well as new products and services. With this, you can develop new products using the available set-up. For example, a label-making company for pharma products can use the same setup to create auto industry labels. Invest in marketing, advertising, and promotional activities to continuously generate fresh business. Again, if this is something new to you or you wish to maximize your gains in this, don't hesitate to consult an external expert. 
A bounce-back mindset is what will win the day for businesses
Both 'Mavericks' and 'Specialists' shall understand the challenging conditions and the unique circumstances surrounding it. They will continuously take stock of their known tools and determine whether they need to design unique solutions or call upon catalysts, in the form of external experts, to help find answers. Not all answers come intuitively, so make sure to engage every single one of your employees in the task of rebuilding the future of your enterprise. Where in doubt, or whenever you need to maximize the potential from new plans and strategies you're building, seek the assistance of an external business consultant who comes with a deeper understanding of the new market trends emerging after this pandemic and can propel your growth in the areas of strategy, marketing, sales, and HR/Talent.